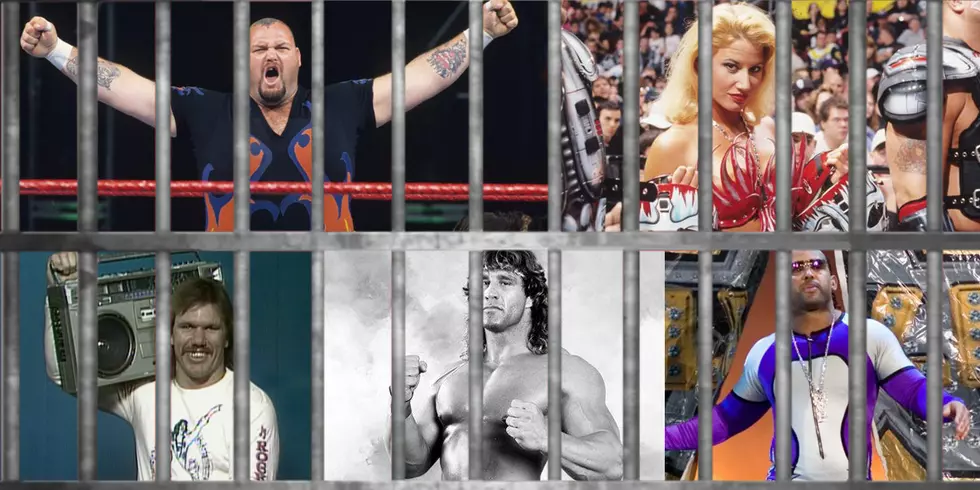 Professional Wrestlers Who Spent Time in Prison
Images via WWE.com
We see in the news when a wrestler gets arrested for speeding or DUI, spending a couple days in jail. But which wrestlers have spent time in the big house?
Sadly, many professional wrestlers have been arrested. A quick Google search and you can find mugshots for wrestlers like Stone Cold Steve Austin, Ric Flair, Big Show, Andre the Giant, the Usos, Chris Jericho, Lex Luger, Scott Hall, Kevin Nash, Matt Hardy, Jeff Hardy, Lita, Kurt Angle, Roman Reigns, just to name.... a lot.
But with those arrests, the wrestler spent limited, if any, time behind bars, usually getting probation or sentenced to rehab in place of prison. Unfortunately, there have been a few wrestlers who have spent a decent amount of time as a resident of a prison. These wrestlers were put away for charges ranging from counterfeiting, to robbery, to one that I don't even want to bring up more than I need to.
Kerry Von Erich

Indicted on drug charges & probation violation

Von Erich is a special case on this list in that he didn't serve time in prison, but was facing a prison sentence at the time of his death.

Von Erich had been previously arrested on drug charges and was given a 10 year probation. Von Erich was arrested on another drug charge, violating his probation. Facing a lengthy prison sentence, and his wife revealing she would not wait for him (according to the Viceland series ' Dark Side of the Ring'), Von Erich committed suicide on February 18, 1993, one day aver being indicted.

Blackjack Mulligan

2 years in prison for counterfeiting

In 1990, the future Hall of Famer and his son Kendall were arrested by the US Secret Service as part of a counterfeiting investigation, being found with half-a-million dollars in fake 20s. As part of a plea deal, the pair served two years in prison.

Bam Bam Bigelow

Undisclosed time in prison for kidnapping

While appearing on an episode of Steve Austin's podcast, Paul Heyman discussed the first wrestling event he promoted, which served as the professional wrestling debut of Bam Bam Bigelow. Heyman states he had met Bigelow when Bigelow first began training after getting out of jail for kidnapping. Its not as bad as it sounds, as Bigelow was a bounty hunter and failed to properly inform police before taking a bail jumper into custody.

Ken Patera & Masa Saito

2 years for battery of a police officer

On April 6, 1984, Ken Patera was refused service at a McDonald's. According to Patera, the location appeared to be open, but was actually closed while filming a commercial. Patera states that another patron who was also refused service threw a rock through the location's window, but Patera was blamed for the incident.

Police arrived at Patera's hotel investigating the incident. Patera was there with another wrestler, Masa Saito, and both men took turns assaulting the officers until backup arrived. Patera and Saito received two year sentences for battery of a police officer.

Sunny

Multiple stays in prison

Tammy Sytch, best known to WWE fans as Sunny, has had multiple stints in prison due to years of legal troubles.

In 2012, Sytch was arrested five times in a month for disorderly conduct, third degree burglary, and three counts of violating a protective order. After violating the protective order again in 2013, she was sentenced to 114 days.

In 2016, Sytch was found in violation of her 2015 probation for DUI by consuming alcohol and remained in jail from September 2016 to February 2017.

Sytch was arrested again in 2018 for two DUIs and fleeing the scene of an accident. Failing to appear in court for those charges, Sytch also received two fugitive from justice charges and six counts of contempt of court. As her previous parole had been revoked, Sytch was taken into custody again and was in prison from March to October of that year.

Hardbody Harrison

Life sentence for Forced Labor, Human Trafficking, Sex Trafficking, Witness Tampering, Criminal Conspiracy, Obstruction of Justice

In 2007, former WCW wrestler Hardbody Harrison was sentenced to life in prison after being convicted of keeping eight women as sex slaves. Harrison served as his own attorney and argued that the women lived at his home while training to be wrestlers. The women stated that they were forced to perform chores around Harrison's home and Harrison would pimp them out to parties, clubs, and trailer parks.

Buck Zumhofe

25 years for criminal sexual conduct and escaping from custody

The less we say about Buck Zumhofe the better. In 2014, former AWA, WCCW, WWF wrestler Buck Zumhofe began serving a 25 year prison sentence for sexually abusing his daughter over the span of 12 years. After finding out the verdict, Zumhofe tried to run from the courthouse, resulting in an addition charge of escape from custody.

This isn't the first time Zumhofe spent time in prison, serving 3 years in the late 80s/early 90s for fourth degree sexual conduct with a minor.

Booker T

19 months for aggravated robbery

Booker T is probably the most famous story of a wrestler turning their life around. After working for over two years at a Wendy's, Booker at some co-workers decided to rob other Wendy's locations in Houston. As Booker and his accomplices wore their Wendy's uniforms during the stick-ups, it was easy for authorities to track them down. Booker was sentenced to 5 years for aggravated robbery, being paroled after 19 months.

MVP

9 years for armed robbery and kidnapping

MVP, born Alvin Burke Jr., joined a gang when he was only 12-years-old. By the time he was 16, MVP started serving an 18 year prison sentence for armed robbery and kidnapping. While serving his sentence, MVP converted to Islam and changed his name to Hassan Hamin Assad. Assad was paroled after serving just over 9 years, and his parole officer helped him get trained as a professional wrestler.