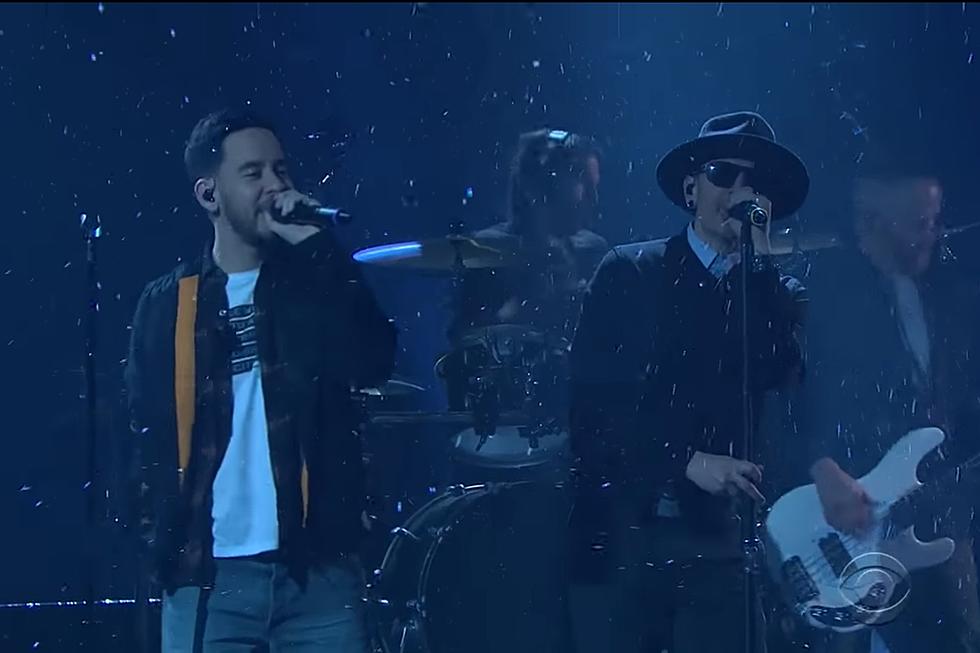 Linkin Park Perform 'Invisible' on 'The Late Late Show With James Corden'
CBS/Late Late Show
Linkin Park took to the stage of The Late Late Show with James Corden last night (June 12) to perform the song "Invisible" from their latest album, One More Light. Bathed in an ice blue light, fake snow fell during the Mike Shinoda-sung track featuring backing vocals by Chester Bennington.
It was the second performance by the band this year on The Late Late Show. They played One More Light's first single, "Heavy," with guest singer Kiiara back in February. The new album, which came out May 19, defied industry projections and debuted at the top of the Billboard charts. All seven Linkin Park records have now landed in the Top 10.
Despite the unquestionable success of One More Light, some longtime fans criticized the band for changing their sound too drastically and leaning more toward a mainstream pop direction, eliciting a strong response from Bennington who said, "If you're gonna be the person who says like, 'They made a marketing decision to make this kind of record to make money,' you can f–king meet me outside and I will punch you in your f–king mouth because that is the wrong f–king answer."
That wasn't the first time the singer lashed out at those wanting Linkin Park to sound more like their debut, 2000's Hybrid Theory. "Move the f--k on," he said to anyone suggesting the band sold out. The comment led to Corey Taylor to admonish Bennington, telling him to, "Be very, very fortunate that people this far along the line still love that music you made." After hearing Taylor's comments, Bennington eased up a bit, explaining, "I agree with him. I do appreciate our fans. I'm human and sometimes I take things too personally. Most of our fans have been very positive lately. Some ... not so much. Either way, there is a lot of passion on both sides and I am grateful to all of our fans. Corey is a good dude and I appreciate him too. Time to recalibrate my perspective. So I say to all of our fans ... Thank you and I love you all. Peace, love and happiness."
26 Bands Who Sound Nothing Like Their First Album
Linkin Park's Joe Hahn Plays 'Wikipedia: Fact or Fiction?'