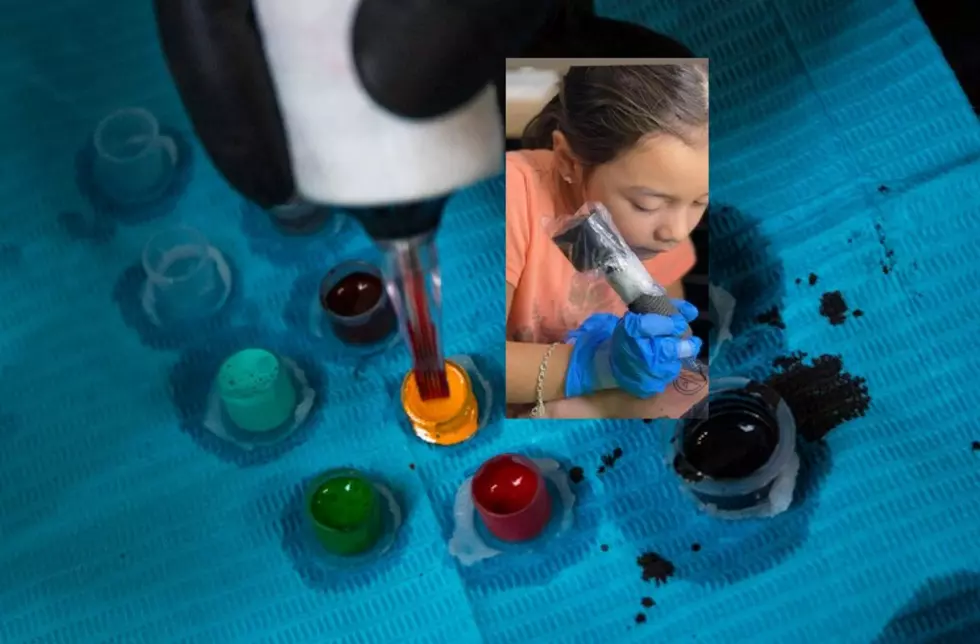 You Can Get a Tattoo from an 8-Year-Old at This Texas Tattoo Shop
Getty Images/Facebook
As someone who has got a few tattoos, I'm always interested in great artists in Texas. Turns out we have a young prodigy who cannot even legally get a tattoo on her own yet, is giving them out.
People judge tattoo artists on a lot of things. Mainly on their portfolio, but other factors go in as well. For instance, how many tattoos they have themselves or how long they have been tattooing for. If you walked into a tattoo shop and saw an eight-year-old giving tattoos. What would you think?
Me personally...I would think some kid is not where they should be. Turns out, she is one of the artists at Nite Owl over in San Antonio, Texas. Now just getting started in the business, she does some very basic designs. Hell, we all have to start somewhere and no way in HELL would I be willing to do this at eight years old. I barely passed art class and this little girl is giving people permanent tattoos.
According to the tattoo shops Facebook page, she gave her first tattoo back on December 23, 2021. Looks like some guy came in wanting the Deadpool logo and Athena took care of him. She was seven years old tattooing people. I was focused on which Power Ranger was better at her age. (We all know green is the best by the way). If you open up the comments on the post below, you can check out the finished result.
Obviously school comes first for the kid, but when school is out she is ready to book appointments for clients. Looks like summer is when she gets a lot of work in. We all have to start somewhere when it comes to a job and it looks like Athena is getting a start in an actual tattoo studio before a lot of folks even thinking about getting into this career.
Maybe I need to plan a road trip to San Antonio and have her do some work for me? Athena, could you handle a Dallas Cowboys Star for me?
KEEP READING: 15 Natural Ways to Improve Your Sleep
READ MORE: 10 free apps to help you get fit in our new normal