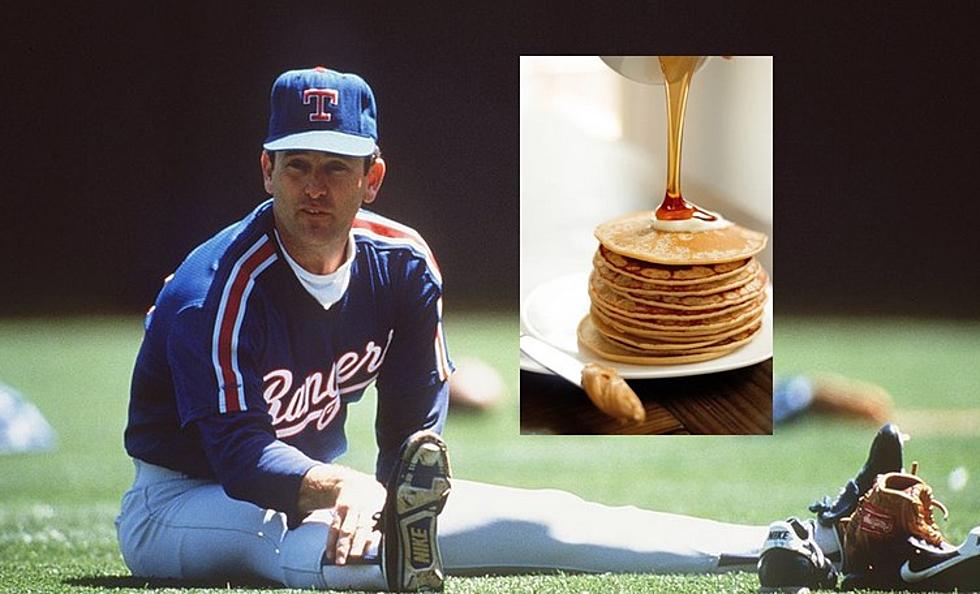 The Crazy Story of Nolan Ryan Being Served Over 300 Pancakes in Dallas
Getty Images/Unsplash User Leighann Blackwood
This week is the anniversary of a pretty hilarious photo of Hall of Famer Nolan Ryan in Dallas. Let's take a look back on what happened that day.
September 25, 1972
If you know your Texas Rangers history, you know the team started in Arlington in 1972. Before he was throwing heat for the Texas Rangers, Nolan Ryan was actually on several MLB teams throughout his career. During this season, he was on the California Angels
Quick Side Note: Calling the current team the Los Angeles Angels of Anaheim is officially the dumbest thing ever. Los Angeles is LITERALLY the City of Angels. Calling them the City of Angels...Angels is so stupid. Go back to calling them the California Angels. Now back to the story.
Nolan Ryan Joins Impressive List
It was on September 25th that the California Angels came to Arlington to take on the Rangers and Nolan Ryan became a part of MLB history. On this night, he would surpass striking out over 300 people in one season. In fact, he got 302 after striking out TWELVE Rangers in one game. Well the fine folks at the Dallas Sheraton thought Nolan deserved an epic meal for such a huge accomplishment. 302 silver dollar pancakes
Check Out the Epic Pancake Breakfast Below
No word on if Nolan Ryan actually finished the massive meal. I would also like to know if I stay at the Dallas Sheraton if they would allow me to try to finish this massive meal. They do have an all you can eat breakfast buffet. So maybe I will have to make the trip down there to recreate this epic photo. Nolan Ryan in his book said breakfast was the most important meal of the day. He certainly had one in Dallas in 1972.
Every Member of the Dallas Cowboys Ring of Honor (So Far)
When you look up at AT&T Stadium, you will notice the names of the Dallas Cowboys legends that have helped the franchise in one way or another. Here is everyone that has their name etched into Dallas Cowboys history forever.
List of Every Texan to Play in the NHL (So Far)
Shockingly the state of Texas has only produced a dozen NHL Players we will put them in order from most successful to least (points wise).