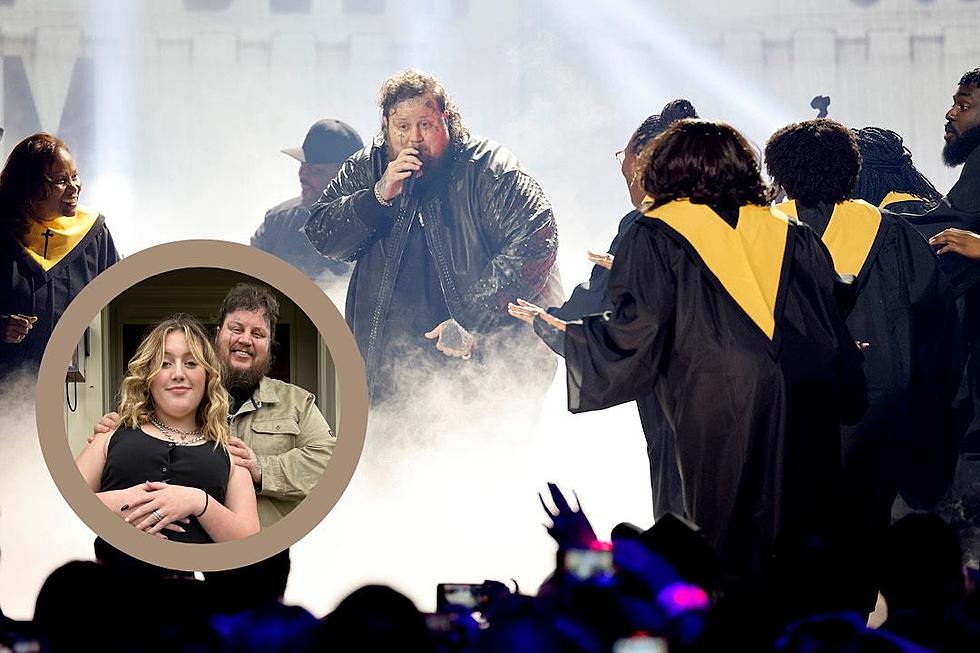 Jelly Roll Shares How Daughter's Faith Inspired His New Album
Jason Kempin, Getty Images/Instagram
Jelly Roll's upcoming Whitsitt Chapel album revolves around spiritual themes and his experience of going to church as a kid — but the project would look very different if it weren't for his daughter, Bailee Ann.
Ahead of the 2023 ACM Awards, Jelly Roll spoke to Taste of Country about Bailee's recent decision to get baptized, and about how her blossoming relationship with her church brought up old memories of his own early relationship with faith.
"So Bailey approached me about six, seven, eight months ago about this little church she's been going to with all her cool friends," he recounts. "And it's off a back-ass country road, it's in an elementary-through-high-school auditorium, maybe 80 people, and 20 of them are youth."
As a supportive dad, he went to a service with Bailee.
"She wants to go to church, I'm in. That's my kid. If she wanted to play soccer, I'd start reading books on soccer. If she wants to play cricket, I'm gonna figure out what cricket is, you know?" he says. "But lucky for me, I knew a lot about church."
That's because the church Bailee chose had a whole lot in common with Whitsitt Chapel — Jelly Roll's own childhood church, and the one that would eventually lend its name and image to the title and cover art of his long-awaited debut country album.
"I too went to a 100-person church when I was a child," the singer goes on to say, explaining that the experience of seeing his daughter at her church completely changed the course of his album-making process.
"Somewhere along the way I stopped doing what I was doing and wrote an entire album, that I can honestly say Bailee inspired, because I thought about where I was at when I was 14. I wanted to get baptized at this little back road church. I scrapped, like, 70 songs that I had wrote for the album, and I started writing the album that day, the day that I went to go see the church with her," Jelly Roll relates.
Bailee's baptism took place in April, and Jelly Roll's wife, Bunnie XO, shared the emotional news, saying that she and her country star husband "cried like babies" during the special moment.
"Her getting baptized, the crazy thing was just all the parallels," Jelly Roll notes. "That's how much her at this church, let alone the baptism, impacted me — that I wrote a whole album themed around it."
There's no song specifically about the baptism on Whitsitt Chapel, but Jelly Roll says it might be fodder for a songwriting session down the line — perhaps even as a duet with Bailee herself.
"Maybe we'll sing that one together," he muses.
Whitsitt Chapel arrives on June 2. Before that, Jelly Roll is scheduled to perform at the 2023 ACM Awards on Thursday night (May 11).
Check Out Country Music's Greatest Mullets