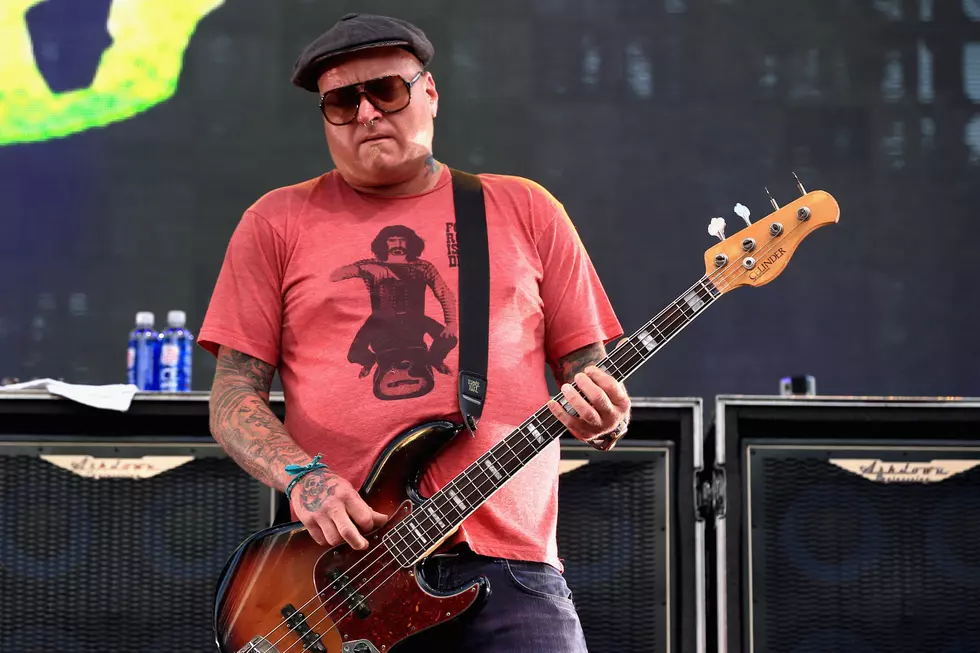 Sublime With Rome Bassist Eric Wilson Seriously Injured in ATV Accident
Christopher Polk, Getty Images
Eric Wilson, a founding member of Sublime and the current bassist for Sublime with Rome, was seriously injured in an ATV accident in California last week, TMZ reported. The musician, who formed Sublime with drummer Bud Gaugh and late singer-songwriter Bradley Nowell in Long Beach in 1988, is expected to make a complete recovery.
Wilson's all-terrain vehicle rolled over and crushed him while we was working on his avocado ranch, the musician's manager told the tabloid. Breaking an arm and four ribs, he was rushed to a hospital in nearby San Diego, where the bass player underwent surgery that spanned nearly five hours. Still admitted at press time, Wilson should be released from the hospital early this week.
With Sublime, the musician scored hits such as "What I Got" and "Santeria" in the '90s, the tunes taken from the band's self-titled final album. The songs were released shortly after frontman Nowell died of a drug overdose that same year.
In 2009, Wilson and Gaugh reactivated Sublime with new singer Rome Ramirez, later amending the group's name to Sublime with Rome after reported legal trouble with Nowell's estate. Gaugh has since left the band.
See Sublime with Rome's upcoming tour dates below.
Sublime with Rome 2019 U.S. Tour Dates
April 10 — Augusta, Ga. @ Barrelhouse LIVE
April 20 — Phoenix, Ariz. @ Days on the Green Festival
June 1 — Cincinnati, Ohio @ Bunbury Music Festival
June 2 — Cedar Rapids, Iowa @ McGrath Amphitheatre
June 5 — Bloomington, Ill. @ Crossinger Motors Arena
June 6 — Papillion, Neb. @ SumTur Amphitheater
June 7 — Bonner Springs, Kan. @ Providence Medical Center Amphitheater
June 10 — Morrison, Colo. @ Red Rocks Amphitheatre
June 12 — Magna, Utah @ The Great Saltair
June 13 — Reno, Nev. @ Grand Sierra Resort and Casino
June 14 — Las Vegas, Nev. @ Mandalay Bay Beach
June 15 — Tucson, Ariz. @ Anselmo Valencia Tori Amphitheatre
June 16 — Flagstaff, Ariz. @ Pepsi Amphitheater
June 18 — Paso Robles, Calif. @ Vina Robles Amphitheatre
June 19 — Saratoga, Calif. @ Mountain Winery
June 20 —Tuolumne, Calif. @ Black Oak Casino Resort
June 21 — Jacksonville, Ore. @ Britt Festival Pavilion
June 22 — Bend, Ore. @ Athletic Club of Bend
June 23 — Redmond. Wash. @ Marymoor Park
June 26 — Billings, Mont. @ ZooMontana
June 28 — Nampa, Idaho @ Idaho Center Arena
June 29 — Helena, Mont. @ Lewis & Clark County Fairgrounds
June 30 — Lake Cowichan, British Columbia @ Laketown Shakedown
Top 100 Hard Rock + Metal Albums of the 21st Century