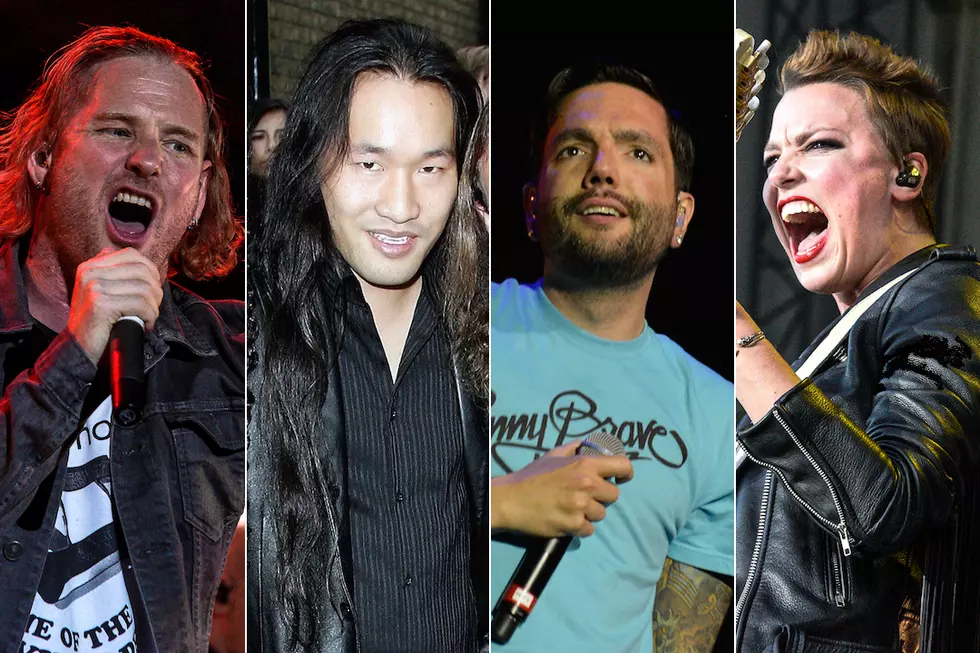 Stone Sour, DragonForce, A Day to Remember + Halestorm Releases Receive Platinum and Gold Certifications in U.S.
Evill Robb Photography / Gareth Cattermole, Getty Images / Duane Prokop, Getty Images / Evil Robb Photography
For a while, platinum and gold RIAA certifications in the rock and metal world were becoming increasingly rare. It wasn't until early 2016 that on-demand music streaming and track equivalent sales had begun to be factored into the equation, which has now helped drive the number of certifications back up. Most recently, releases from Stone Sour, DragonForce, A Day to Remember and Halestorm have all been awarded with the gold or platinum status.
Most impressively, Stone Sour's sophomore album, Come What(Ever) May, was certified platinum in the U.S. on July 21 for sales in excess of one million copies. It's been a banner year for the band, whose new album Hydrograd debuted at No. 8 on the Billboard 200 charts, moving 33,000 units in total. Additionally, on March 3 earlier this year, the singles "Through Glass" and "Bother" received platinum and gold certifications respectively.
Modern power metal heroes DragonForce made their breakthrough in 2006 with Inhuman Rampage and its triumphant, guitar dueling single "Through the Fire and Flames." Though the sales didn't start off strong, the album has caught a major wave since its release, netting gold status on July 21 for sales over 500,000 copies.
On the song side of things, Halestorm's "I Get Off" single from their 2009 self-titled album went gold on July 12 and A Day to Remember's Homesick cut "It it Means a Lot to You" single was certified platinum on July 21.
One of the highest selling artists of the new millennium is Nickelback, who achieved the rare diamond certification for their All the Right Reasons album. When the band dropped by the Loudwire studio, Loudwire Nights host Toni Gonzalez spoke to them about what having a diamond album means as well as the shift in the music industry after the collapse of album sales. Guitarist Ryan Peake cautioned, "When you see a lot of these new songwriters coming out, honestly, there's not a lot of incentive unless you're in a band and playing live. If you get in the music business to make money, it's a terrible idea. Do it because you want to do it."
20 Best Selling Hard Rock + Metal Albums in the U.S.
10 Albums You Won't Believe Went Platinum