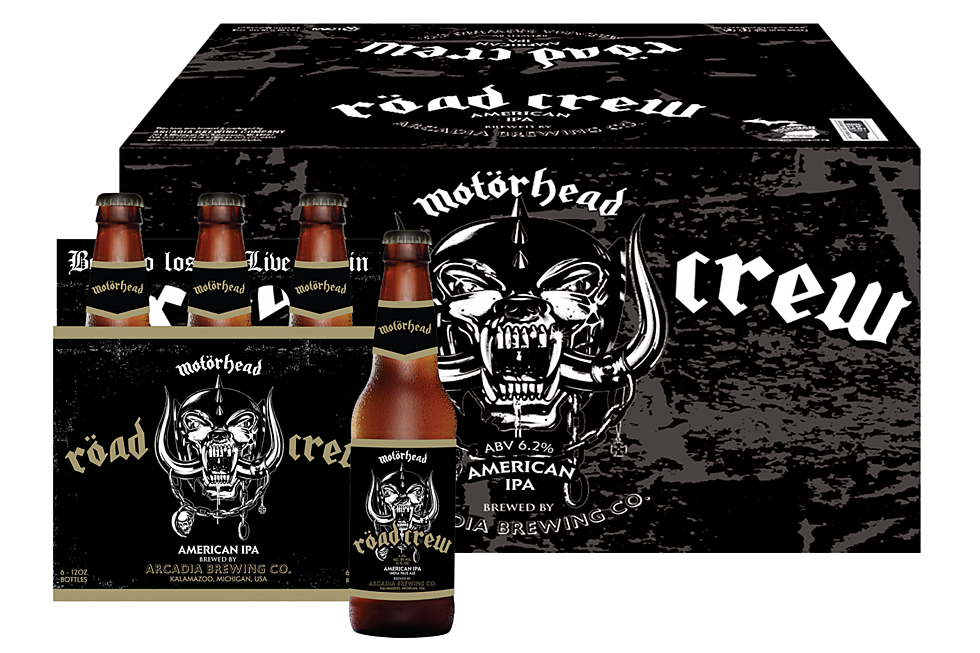 Motorhead Röad Crew Beer Officially Landing in the United States
Arcadia Ales
Röad Crew, an American IPA with an 6.2% ABV, is a hop-forward India Pale Ale "with attitude" that showcases a floral and citrusy hop character with just the right amount of malt sweetness, according to the brewery, which was founded in 1996.
"Röad Crew beer is perfect for all rock, beer and hop heads and goes down especially well whilst listening to Motörhead at a wonderfully obscene, lawn-killing volume. Röad Crew will be available in bottles, cans, keg and even cask," the company says in a statement. "We began our trek into the craft beer world 22 years ago inspired by world-class, British-inspired beers, and becoming a partner with British icons Mötorhead, Camerons and Global Merchandising to bring Röad Crew to fans of great beer and heavy metal here in the US has our volume dial pegged to the max."
In addition to the announcement that the beer will now be available in the States, Motorhead alum Phil Campbell and Mikkey Dee chimed in with excitement regarding the development. Their full comments can be seen in a video from Arcadia below.
"I'm very happy to say that Röad Crew beer is now out in the U.S.!" Dee says. "It's been way too long, but now it has arrived, I encourage our North American friends to get out there and enjoy it right now!" Adds Campbell, "Road Crew is a world-class rock n roll beer, from the world's loudest band."
10 Unforgettable Lemmy Kilmister Moments
Where Do Motorhead Rank Among the Top 50 Metal Bands of All Time?