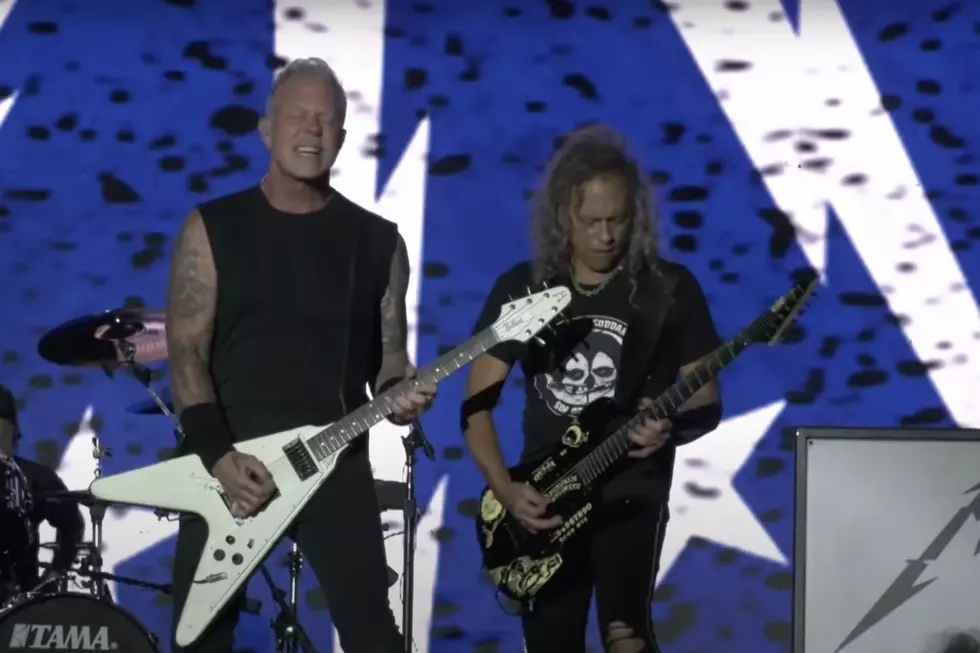 'Color Our World': Metallica Share Live Video of 'Blackened' Performance in Buffalo
Metallica via YouTube
Following the release of their live performance of "Ride the Lightning" in Buffalo, Metallica have shared another pro-shot video from the same show, this time their encore opener, ...And Justice For All's "Blackened."
Check it out in the video below.
Watch Metallica Perform "Blackened" Live in Buffalo
The only writing credit Jason Newsted received on ...And Justice For All—his first studio album with Metallica—was for "Blackened."
"That main riff was Jason's," Lars Ulrich recalled in an interview about the album. "That was written on the bass."
"[Jason] came over to my apartment, at the time in Albany—not New York...Albany, Calif.," James Hetfield added. "He came over and when we were just hanging out, we were just starting to get some ideas together, and I was like, 'Hey, what do you got?'"
And then Newsted played the riff that would turn into the foundation of "Blackened."
"The one thing that would always stand out for me when he would play that thing," Hetfield remembered, "was just the way the riff was different every time at the end—it felt really fresh and really cool. It was rolling, but you didn't know which way it was going to roll for a second."
Metallica's performance of the Justice opening track was only the second time they played it live in 2022. The first was in Porto Alegre, Brazil, on May 5. The Buffalo performance marked the 501st time Metallica played it onstage in their entire career.
At their following show in Pittsburgh, they opened their encore with Master of Puppets' "Battery."
Check Out Photos From Metallica's Performance In Buffalo
The 10 Highest-Charting Metallica Songs on the Hot 100
Metallica Albums Ranked
There are moments of indecision when compiling this gallery of Metallica Albums, Ranked Worst to Best. After all, we really could have had – for the first time ever – a three-way tie for first.