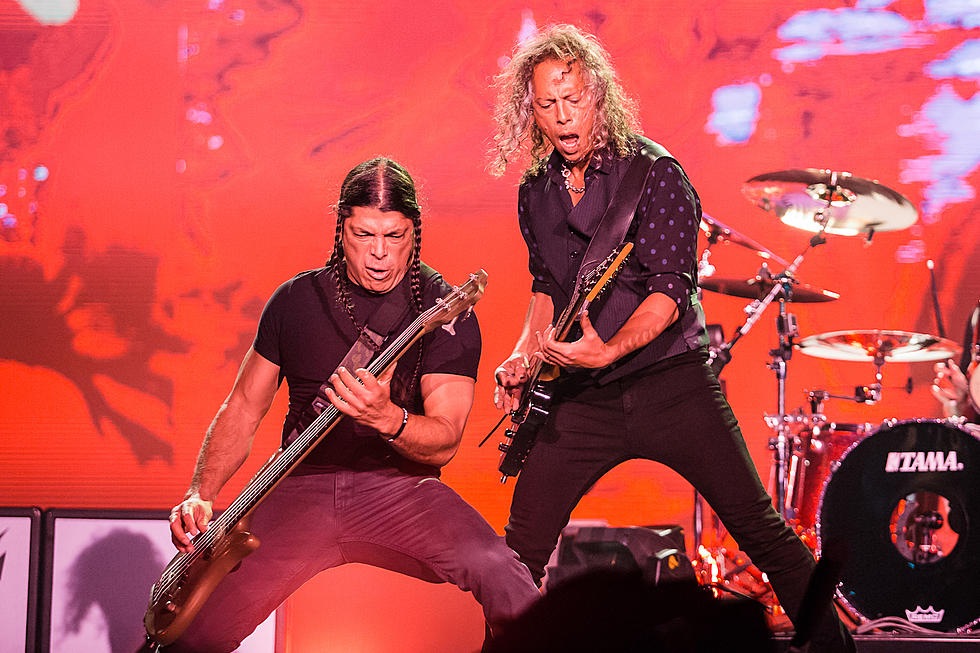 Listen to Metallica Songs with the Bass and Guitar Parts Switched
Mauricio Santana, Getty Images
Ever think about what some Metallica songs might sound like if the guitar and bass parts were switched up? Wonder no more, as a pair of aspiring musicians from the Ukraine have done just that! Andriy Vasylenko, a self-taught musician who plays bass, is joined by guitarist Denis Pauna in the video which can be viewed above, taking on the parts of 17 different Metallica songs and switching the two instruments up.
Tracks like "Seek & Destroy" and "Fade to Black," "To Live is to Die," "Wherever I May Roam" and "Master of Puppets" sections feel pretty similar to the originals. Elsewhere, it sounds straight up odd to hear the iconic basslines from "For Whom the Bell Tolls" and "(Anesthesia) Pulling Teeth" redone with guitar instead. To see all of Vasylenko's Metallica-inspired videos, click here.
This isn't the first time fans of the band have been inspired to re-imagine or tweak the songs of Metallica. Earlier this month, we brought you the story of an enterprising drummer who tested out the theory that Lars Ulrich's much-maligned drum sound on St. Anger might sound better if an actual trashcan lid was used in place of the snare.
To hear the songs as Metallica intended them to sound, check out the group on their current tour in support of the 2016 LP Hardwired...To Self-Destruct. They'll be in Europe until May but they launch the North American arena leg in September. The full set of dates can be found here.
See Cliff Burton in the Top 66 Hard Rock + Metal Bassists of All Time
You Think You Know Metallica?