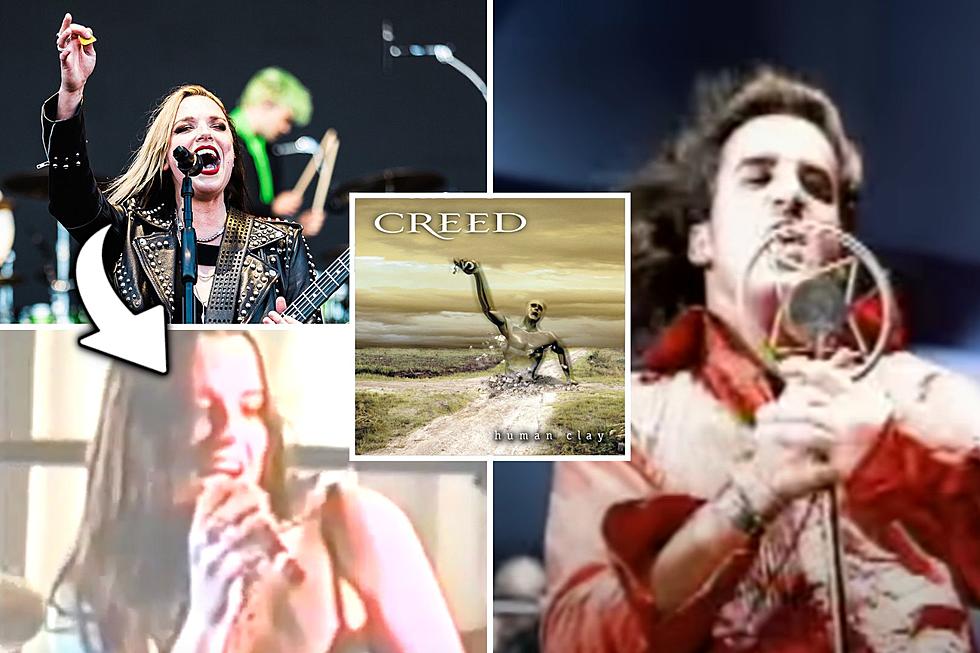 Watch a Pre-Fame Halestorm Crush Cover of Creed's 'What If' Back in 2001
Steve Thrasher/Danny Wimmer Presents / YouTube: onetwosixx / YouTube: Creed / Wind-Up
Halestorm didn't release their first album until 2009, but the origins of the band go back much further, all the way to 1997. The group spent a lot of time writing songs and playing gigs around their home state of Pennsylvania, including a stop at the Eagles Club in Lebanon Township in 2001, where they covered Creed's Human Clay hit "What If" among other cover selections and originals.
It's sometimes difficult to imagine that rock and metal's superstars started off just like any ordinary musician — recruiting some friends and/or family members to create and play music with ambitions of turning it into a career.
In the video below, we get a glimpse of pre-fame Halestorm slugging it out like any hard-working, aspiring group, as well as Lzzy Hale's formidable vocal power just five days before her 18th birthday. She reaches into her lower register and delivers an evocative performance, wielding just the microphone rather than pulling double duty on guitar and vocals as we know her to today.
"What If" is one of Creed's heaviest songs, first released in 1999, and it helped propel the band to new heights alongside other Human Clay hits "Higher" and "With Arms Wide Open." Being such a commercial success, it was a prime choice for Halestorm, who also dished out covers of Heart ("Barracuda" and "Crazy On You"), Ozzy Osbourne ("Perry Mason"), Michael Jackson ("Smooth Criminal") and Guano Apes ("Open Your Eyes").
See the full setlist below as well.
Fun Facts About Creed's "What If"
The second single to be released off Creed's sophomore album, Human Clay.
The song was featured in the Scream 3 soundtrack in 2000.
In the music video, Ghostface, the infamous character from the Scream movie franchise, kills the members of Creed.
The song hit the following marks on Billboard charts: No. 2 (Bubbling Under Hot 100 Singles), No. 3 (US Mainstream Rock), No. 15 (US Alternative Airplay), No. 11 (year-end US Mainstream Rock) and No. 49 (year-end US Modern Rock).
Halestorm Setlist — Oct. 5, 2001 (via setlist.fm)
01. "Open Your Eyes" (Guano Apes cover)
02. "Smooth Criminal" (Michael Jackson cover)
03. "Barracuda" (Heart cover)
04. "Senses Gone"
05. "Shadows of My Heart"
06. "Rose in December"
07. Jam
08. "Crazy on You" (Heart cover)
09. "No Kidding"
10. "Ready to Go"
11. "Perry Mason" (Ozzy Osbourne cover)
12. "I Forgive You"
13. "What If" (Creed cover)
14. "The Children"
15. "You Can Try"
16. "Shout It Out"
17. "The Eye
Halestorm, "What If" (Creed Cover) — Live in 2001
Creed, "What If" Music Video
The 40 Best Cover Songs by Rock Bands