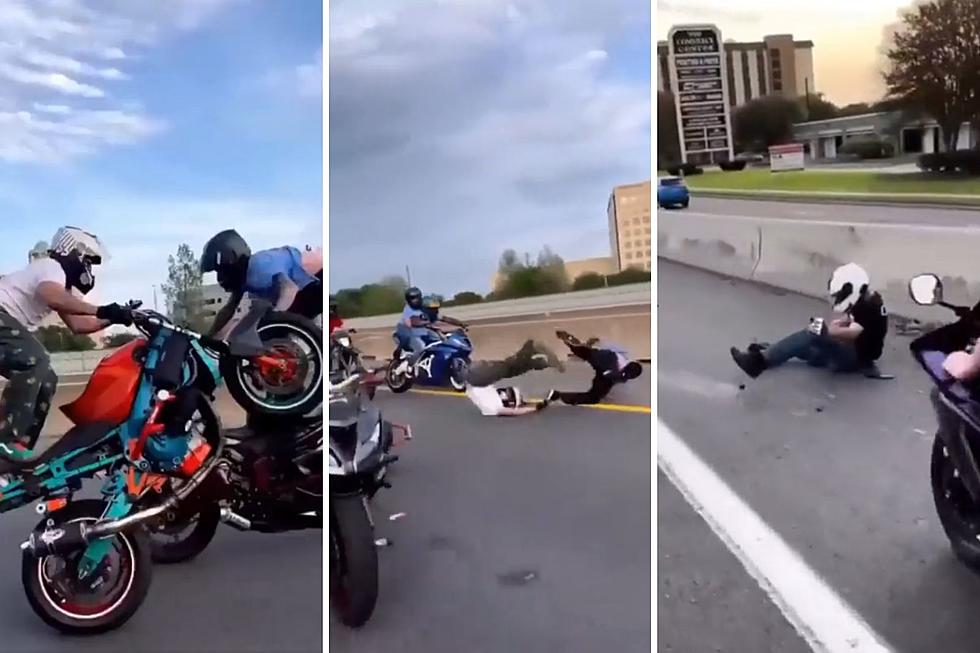 Houston, Texas Highway Motorcycle Stunt Gone Bad
X/Canva
Houston, Texas Highway Motorcycle Stunt Gone Bad: The Daredevil's Tale.
I hate to say that these fools got what they deserved... But they kind of got what they deserved.
Everyone appears to have escaped the carnage in the video at the bottom of this article with just minor bumps and bruises, but it could have been much worse.  Let's break it down.
Clowns Clownin'
The video opens with a couple of rascals attempting to stand on their crotch rockets. One is facing backward and one is popping a wheelie. This is on a highway that is NOT closed for stunts.
Houston, We Have a Problem
The cool guy doing the wheelie immediately rams into the cool guy riding backward and they take a big tumble.
Runaway Bike
Now begins the wildest part of the video. One of the crashed bikes continues to drive down the freeway without a rider. It keeps going and going. This is where things could have gone really bad for another motorist.
Happy Ending?
Luckily, instead of plowing into an innocent motorist's vehicle, the runaway bike takes out another dude in the group. I'm not saying this guy deserved it, but it's better than taking out a soccer mom transporting her kids, you know?
Check out the video for yourself below:
State of Texas Looking for 48 Dangerous Fugitives with Big Rewards
In total, the Texas Department of Public Safety is looking for 48 fugitives. Three of those fugitives are from East Texas, Lufkin, Mabank and Henderson County.
Gallery Credit: Texas Department of Public Safety
13 Fun Attractions That are Free to Visit in Texas
Here is a look at some really fun activities to enjoy with friends and family in the state of Texas that won't cost you anything.
Gallery Credit: Billy Jenkins