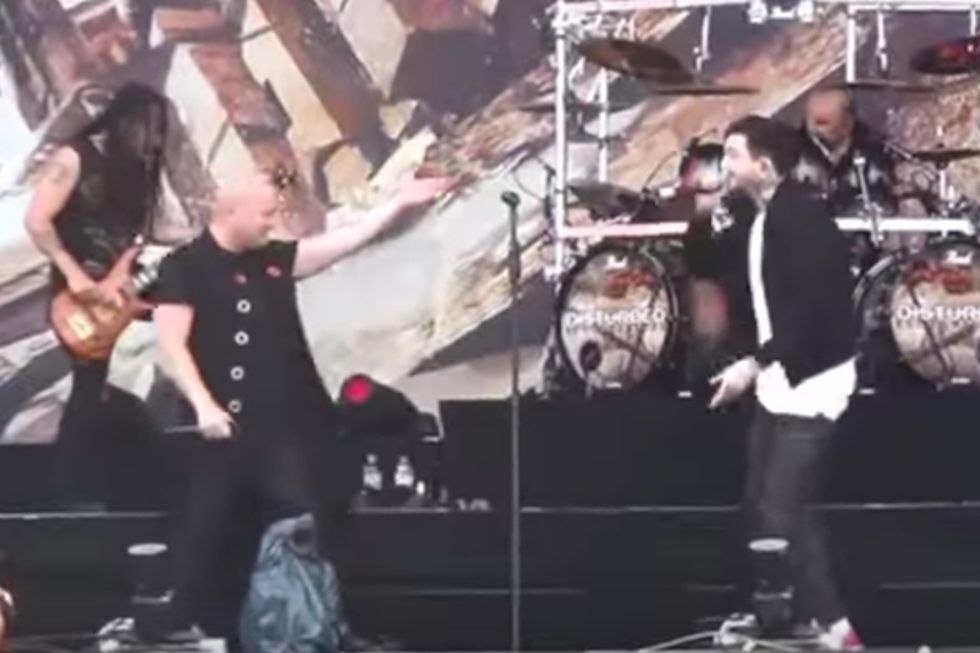 Disturbed Jam Rage Against the Machine's 'Killing in the Name' With Of Mice & Men's Austin Carlile
YouTube
Disturbed's recent live shows have featured an incredible medley of classic rock songs. The band found a way to cram together Nine Inch Nails' "Closer," U2's "I Still Haven't Found What I'm Looking For," The Who's "Baba O'Riley" and Rage Against the Machine's "Killing in the Name." It's a ballsy collection of songs to pull off, and Disturbed have invited rockers like Halestorm's Lzzy Hale, Papa Roach's Jacoby Shaddix and members of Sixx: A.M. to guest on various parts of the medley in the last few weeks.
Music festivals are often hotbeds for once-in-a-lifetime live collaborations, so when you have a stacked bill like Rock im Park, you've got a good chance to witness something special. Disturbed and Carlile kept the energy high during the Rage cover, and as you can see in the footage above, the crowd wasn't shy to let loose.
After finishing off the European festival circuit, Disturbed will head back to North America for a lengthy string of headlining shows before heading off to Australia late in the year. Of Mice & Men will also return to North America to support Slipknot and Marilyn Manson on the duo's massive upcoming tour.
Watch Disturbed and Austin Carlile jam "Killing in the Name" in the clip above!
See Where Two Disturbed Discs Rank Among Our Top 100 Hard Rock + Metal Albums of the 21st Century
David Draiman Plays 'Wikipedia Fact or Fiction?'