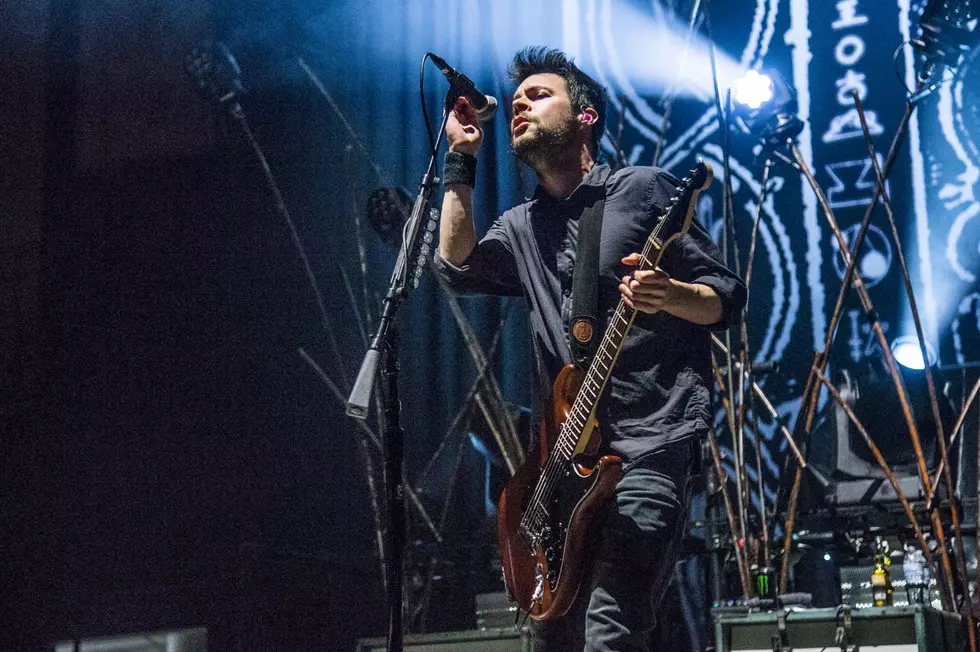 Chevelle: The Story of an Estranged Brother + Rarities Album
Amy Harris for Loudwire
From the time they released their first album, Point #1 in 1999, Chicago alt-metal trio Chevelle developed a reputation for being a trio of brothers that fought like Ray and Dave Davies of the Kinks. Interviews devolved into sarcastic snipes, and backstage the members sometimes got so mad at one another they'd refuse to speak. Needless to say, overnight bus rides from one city to the next were tense and strained. At the time, it didn't seem likely that Chevelle would make it to their second album, 2002's platinum-selling Wonder What's Next, let alone last for 20 years and record nine albums, including their new B-Sides release 12 Bloody Spies: B-Sides and Rarities.
While frontman Pete Loeffler and drummer Sam Loeffler admit they were frequently at odds in the early years, they insist the idea that they're constantly bickering is purely fake news, and that they've gotten along as well as most bands since the departure of bassist Joe Loeffler in 2005. A burr that constantly jabbed at the band until it drew blood, Joe left Chevelle after their third album, 2004's This Type of Thinking Could Do Us In and Chevelle achieved a level of calm it had never experienced.
"There's this certain group of people that are like, 'Oh, man, they've never been the same since Joe left,'" says Sam shortly before heading back into practice to work on the band's upcoming, yet-to-be-titled 10th studio album. "Our first record came out in 1999, so technically he was only with us for about six years of our career. And even then, he was never really there at all. He never wrote anything. He wasn't even in the room when we wrote. He never wanted to be part of the creation of the songs. He just learned all his parts in the studio and showed up when he had to do whatever his part was."
Despite Joe's already minimal involvement with the band, the Loefflers claim that as time passed their brother wanted to do less and less while being credited as one-third of the Brothers Chevelle. "That kid," says Pete, shaking his head. "We literally have not spoken to him since he said, 'You're going to hear from my lawyer.' I was like, 'Huh?' So he can he can kiss my ass."
The point of no return came when Joe told his bandmates he didn't want to play any overseas shows and that they'd have to hire another bassist to fill in for him. "We were like, 'Well dude, what you're asking doesn't make sense," Pete explained. "Being in the band and playing is your job." And he said, "I just want to do what I want to do so either you do what I want or I'm going to tell everybody that you fired me.'"
Soon after, Joe Loeffler was out of Chevelle and some fans were under the impression he had been fired. The band hired Dean Bernardini, who has been with them ever since. "We haven't talked about [Joe] much since it happened," Pete says. "It was a pretty negative, harsh thing, but the reality is we never had a good relationship. You just have those people in your family or in your life that you just never really got along with. He never got along with us. Family dynamics can be really hard and, as they say, every family has one [antagonist], and if you don't know who it is, it's probably you."
With Bernardini still giving his all and contributing to every session, Chevelle are energized and motivated as they continue working on the follow-up to their 2016 album, The North Corridor. At the moment, they have most of the songs demoed and are fine-tuning them before they enter the studio. "I'm gonna have to dig super-deep on this one," Pete says. "Right now, we're not totally happy with it yet, so I'm going to continue working on it until it feels done. I hope it's sooner rather than later, but I'm pretty sure it'll come out sometime in 2019."
At present, the album features a mix of heavy, punchy songs and softer, more melancholy material. Chevelle hope to work on the record with Joe Barresi, who has produced their last three releases, 2011's Hats Off to the Bull, 2014's La Gárgola and 2016's The North Corridor. "He's such a good dude," Pete says. "So fingers crossed. We just have to be able to pull him away from the Tool album for a little bit in this New Year. Right now as it sits, I think that a lot of our fans would really like a lot of the heavier tracks, which is what I like. I do have a collection of acoustic downtempo, more chill tracks that may make it onto this next one, too, because I like them and I don't want them to get swept under the rug. And it's not going to be as dark as The North Corridor. It's not going to be all screaming. I'm singing a lot more, but it definitely still has its heavy spots."
In part, the band released 12 Bloody Spies: B-Sides and Rarities to satisfy fans craving new material. Even though the tracks are all B-sides or bonus material that spans the band's career from 2002 to 2016, Chevelle still believe in the material and felt it represents the evolution of the band. The group won't tour for 12 Bloody Spies but they strongly believe the album is a worthwhile addition to their catalog.
"We're calling it our ninth record because, technically, we've written nine records of music that have been released," Sam says. "It's not like they were left off the records because they weren't good enough. Most of them were written after a record was finished because the label said, 'Hey, we need a couple of special tracks for Best Buy or Target' or whatever retailer or market, and we didn't have any more songs, but we had things that weren't really finished. So we'd go finish them and try and get them recorded as fast as we could."
"It was a weird thing to try and put them all together," adds Pete. "Once I did, I struggled with making a sequence. We finally got it where we liked it, but it's not as cohesive as a complete album and since they're B-sides it doesn't have to be. A lot of these songs were done really quickly and under pressure and then a few of them were so old that we had already worked them out pretty well. We're pretty happy with it and Sam, especially, really felt like they needed another sort of day in the sun. Now, we've had a lot of friends call us and say, 'Wow, I didn't realize you got a new album out already. I love it,' and we're like, 'It's not new. It's a B-sides thing,' but a lot of people didn't have them so that's why we put them out."
To provide perspective on the songs from 12 Bloody Spies, Sam and Pete discussed what went into the creation and content of each.
"A Miracle" - Bonus Track From The North Corridor
Pete: I worked on that one with Joe Barresi in the studio. He said, "I love the demo idea here. let's keep working on it." We kept plugging away and at the end of it, we had a complete song. I was thinking outside of the heaviness of the music we normally write and delving into some deeper things, like life, love, death and religion, me becoming an agnostic. We grew up Catholic and then I basically recovered from that. So this is just my personal journey. It's my search. My path led me down this road. I'm not against searching. A lot of people find themselves closed off to new ideas and I just don't want to live that life. I'm just trying to be open-minded, and I find that people get caught up in things, like politics and religion. They end up fighting over this stuff and they forget that we sit here in this miracle of life, and they forget how to care about each other. They lose sight of that. The chorus is a bit negative. I played the song for one of my good friends and she went, "Oh, I thought you were writing a positive song and then I remembered it was you. I like it, but it's not positive." No, it's not.
"Sleepwalking Elite" - From the 2007 Vena Sera Sessions
Sam: We did "Sleepwalking," "In Debt to the Earth" and the Compulsion song "Delivery" for that album. Those were the songs that Pete had parts for, so we worked with them. We did Vena Sera in Las Vegas, which was so fun and so fantastic, but we learned a lot from being around that party scene, where people come there for the weekend, and the song was a great take on that.
"In Debt to the Earth" - From 2007 Vena Sera Sessions
Pete: That song is classic Chevelle. We started with this idea of a slow build and a huge payoff in the end. I love it. We've actually played it out a couple times, and it's a bitch to sing at the end, but it's so rewarding. The lyrics are about the environment and, at that time, I was learning a lot more about the oceans and the things we can do to help save them. If we're honest with ourselves, we know what we'll lose. It's all there in the chorus.
"Sleep Apnea" - Acoustic Version of a Song on 2009's Sci-Fi Crimes
Sam: That was the on the demo we played for the A&R guy. First, we played him two or three songs and he went, "Where's the music going? What direction do you want this to be in?" Then he heard that demo of "Sleep Apnea" and he said, "This is just fantastic! I love it! Go make a record!" It's one of my favorite songs and I almost prefer the acoustic version of that because I feel like you can really hear the definition.
Pete: I did the demo in my basement on a 24-track hard disk recorder, which I still have and still use. The only thing we did outside that basement was the master. I sang it late at night and it was just an idea that I liked. I'm glad people will get to hear that demo because it is its own thing. It's a stripped down and raw recording, and we have a lot more like that. I'm considering compiling those and maybe putting out some of those as well. When they're in demo form, a lot of these songs sound so personal and raw, and I'll just say it's not about sleep apnea.
"The Clincher (Version 103)" - Original Song on 2004's This Type of Thinking (Could Do Us In)
Sam: We did not do 102 versions of the song before we recorded this one. For some reason, throughout the bulk of our lives, right from the time we were kids, the number 103 kept popping up so we called it that. This version was done with a friend of ours in a little apartment in the city. We just set up a ProTools rig and we wanted a totally different vibe. We wanted it to sound completely different than the album version and I think we achieved that because it sounds pretty industrial.
Pete: I re-sang the whole thing and we replayed a bunch of parts. I actually like this more now than when we originally did it. The song is about my claustrophobia. I've been caught in two elevators and freaked out on an airplane and this song talks all about being buried alive and just how it's one of the worst things I could imagine. Even to this day, I take Xanax to fly because it just helps calm me down. I'll test myself on a plane. I'll be like, "Yeah, I'm not going to take it and see how I feel," and I've made it through a few of them. It's a dark song. A lot of the lyrics came from a darkness. At the time, we were in our early 20s and all this emotion was coming out.
Sam: We actually did three versions of the song: The album track, "Version 103" and a version we did for the Madden video game, which features different vocals. Pete sang the song, we got a quick mix of it and got it onto Madden, and then he sang it again and we remixed everything for the album. It was really fun for us to get on Madden, which wasn't as big at the time as it later became.
"Fizgig" - Originally on 2012's Stray Arrows: A Collection of Favorites
Sam: We recorded that in our home studio and our producer Brian Virtue took it back to mix it himself in his own studio. We were hurrying to finish it and hurrying to record it, but we really like that song. It was a ton of fun to play and we played that song out a bit here and there.
Pete: That one is all about my skepticism, but I didn't really know that when I was writing it. You do a song, you set it aside and then you rehearse it and learn it again. My lyrics have been somewhat like poetry, where it's not really clear to me what it's about until I'm actually further down the road. The song is just about somebody barking orders at you, whether it's parents or bosses or other authority figures. I don't want to buy someone's bad advice all the time. Now, when I sing this song I say it with more of a sarcastic tone, "I'll never buy your great advice." That's how I sing it live, and I wish I would have sung that in the actual version instead of, "I'll never buy your bad advice," which is so, you know, obvious. It's funny how those things morph over time and you start changing songs. I don't think that's a bad thing. You're playing so many shows, why not switch it up a little bit.
"Glimpse of the Con" - From 2011's Hats Off to the Bull Session
Pete: That's one of my favorite songs, ever. There's not really much of a story behind it. We just needed a song. We had to hold something back from the album because we had too many songs and that song's actually hard to play as a band because there's so many parts and we don't have enough people. The song's about my questioning the other side. It's a big, big question. Everyone does it. You're going to question the afterlife when something big goes down or you're going to question it every night when things go dark and you're alone, but you're gonna do it.
"Indifference" - Acoustic Version of a Song From Hats off to the Bull
Pete: This was done in the studio. It was a blurb of an idea that I liked and I didn't want to ruin it, so we recorded it and just kept it short and sweet. I really feel like if I'm left long enough with a song I'm going to ruin it. So when I have a strong idea that I love I need to let people hear it because I'll get three or four different ways to sing it and then I'll just get too close to it. This is one of those songs that was so simple and had a nice melody to it, which I don't do a whole lot anymore.
"Until You're Reformed" - From 2003 Daredevil Soundtrack
Pete: We had these songs before we recorded 2002's Wonder What's Next. We had that one, we had "Comfortable Liar" and one more. When we did the recording we had to pick the ones that worked best, and we didn't like the way we recorded that song. So we left it off and went back and recorded it later.
"The Gist" - From the Sessions for 2009's Sci-Fi Crimes
Sam: We were originally going to open Sci-Fi Crimes with that and then when we finished the whole album that song didn't fit anymore. So we figured we'd use it for something else.
Pete: Looking back, that song probably could have used to some lyrics, but at the time we were recording Sci-Fi Crimes, which was the hardest record we've ever done, I was just burned out. Now I'll hear it and feel like I probably should have written lyrics for this version we're putting on the B-sides. I think I would have had the ability to do it now, I just didn't think of it at the time.
Pete: With Sci-Fi Crimes, we took the reigns back. We said we want to produce as much as possible and it was you know, we had all these grand ideas of having 10 different tracks of guitar and each song and crafting this really long, old-school style record. think it was the right thing to do at the time, you know? Yeah, but it was it was a huge learning curve and it was a huge amount of work.
"Delivery" - A 2007 Cover of a Song by Compulsion
Sam: Compulsion was a band that the three of us really liked. Dean found them. He went and saw them at the Double Door in Chicago and came back and it totally connected with us. It's a cool band and we really liked that song. It's a very different style for us, which we thought would be interesting to do. One of the guys in the band heard the song and told someone we know that he liked it. That was pretty cool to have that kind of positive feedback.
"Leto's Headache" - Recorded During Sci-Fi Crimes Sessions
Pete: It's about Jared Leto, the well-known actor who's also in Thirty Seconds to Mars. We haven't spoken to him in a few years, but we met them on the road when we were both doing our thing at festivals and we ended up touring with them and bringing them out early on. They're talented guys and good friends. Jared has a hard time going out into public and getting mobbed and when you're around him you see that. So I made a joke and said he's got a big, famous headache. He reached a level of fame that people rarely get to and it can be a real pain. The song was born out of blood, sweat and tears, but I think it came out well.
Chevelle's '12 Bloody Spies: B-Sides and Rarities' is out now and can be purchased here. Follow the band on Facebook to stay up to date with everything they're doing.
2019's Most Anticipated Hard Rock + Metal Albums