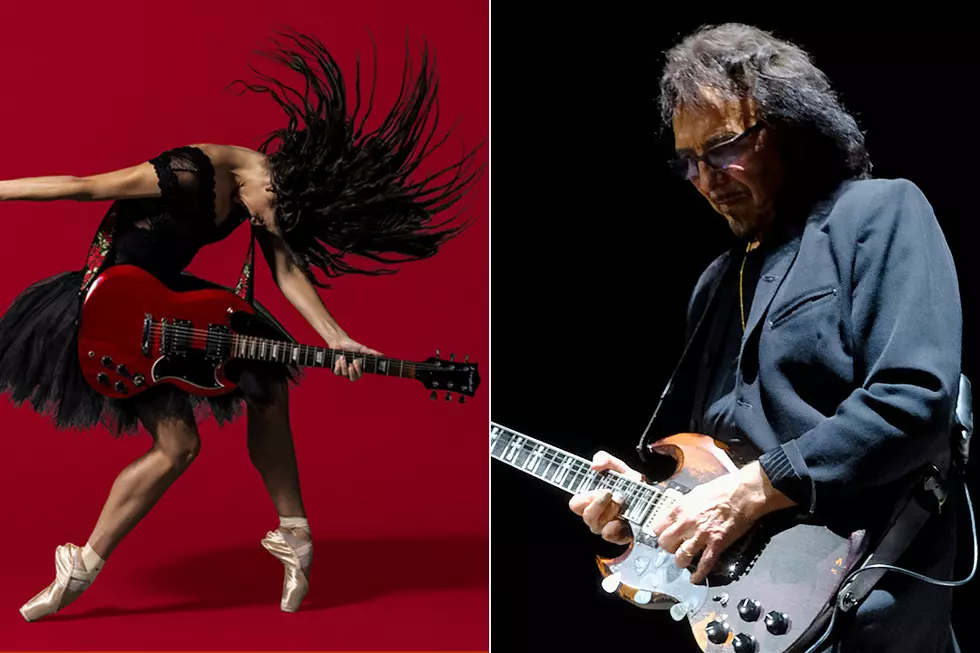 Tony Iommi Explains Why Black Sabbath Ballet Will Work
Birmingham Royal Ballet / Frazer Harrison, Getty Images
Tony Iommi said the upcoming ballet inspired by Black Sabbath will work because the music retains an important detail that many people miss about his band's work.
The Birmingham Royal Ballet will debut the show in the metal icons' hometown in September, featuring eight classic songs reinterpreted for the stage, accompanied by original music based on the catalog.
"It's going to be very different," Iommi said at a post-rehearsal press event on Thursday. "We are mixing two different audiences – ballet and heavy metal. I know with our fans there is a lot of excitement. They're really interested in coming to see the show and finding out what it's going to be like because it's so different. ... It's another world for me. … Our fans … have probably never seen a ballet in their life. And hopefully, the ballet fans might like some of the music, too."
Artistic director Carlos Acosta noted that 60% of tickets have been bought by Sabbath fans. He said that "Black Sabbath is so different from the world of ballet, and I wanted to multiply our reach. I hate to be predictable; I hate for the company to be taken for granted. Everyone knows 'Swan Lake' and 'Cinderella.' … [It's] a great opportunity for us to show people the world of dance."
Music supervisor Chris Austin said the challenge was a steep one. "I thought, 'Where do you start?' The Black Sabbath catalog is enormous – it's so rich and so varied. So the process initially was starting to narrow down the amount of material that we wanted to work with that would furnish us with variety, with richness, with different emotional tones, but also help us create this evening-length show."
He added that another problem was the lack of sheet music. "Unlike the Beatles where you can buy two enormous volumes of all their scores with all the instrumental parts, there's not so much for Black Sabbath."
Iommi added that "most of it's wrong anyway. Most people I've heard do Sabbath stuff haven't quite got it right. It's a slight bit off. It's not exactly in time. But you captured it perfectly."
"What I love about Black Sabbath music is the glorious irregularity," Austin said. "All the aspects of music – the flexibility of tempo and feel."
Acosta noted that part of the show will feature anecdotes from the band's five-decade career, possibly including Ozzy Osbourne's notorious bat-biting incident. "There's also a lot of comedy in Black Sabbath when you read the biographies and check out the archive material, so I'm trying to mirror that in the show," he explained. "But basically it's the story of rags to riches for the most successful band in rock history."
Iommi concluded that the show is "pushing the music outside the box. I like something that's more adventurous, and that's exactly what this is. Who would have thought Black Sabbath and ballet would go together? But it's working."
Weird Facts About Rock's Most Famous Album Covers
Early on, LPs typically featured basic portraiture of the artists. Then things got weird.