Watch Melissa McCarthy's Sean Spicer Hit the Streets in 'SNL' Filming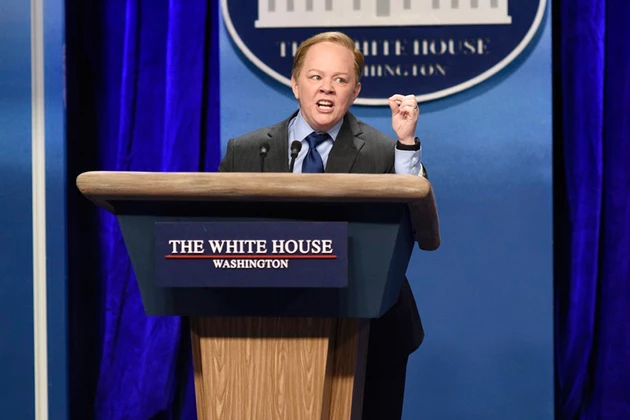 SNL isn't always one to follow expectations, but with Melissa McCarthy hosting full-time after three Sean Spicer appearances, you knew they'd go all out. Watch McCarthy take Spicey to the streets in an elaborate SNL production setup for the weekend.
Early Friday saw a number of social media posts (h/t The Hill) observing McCarthy in full Sean Spicer get-up, riding the character's motorized podium through busy New York streets. It isn't clear if the scene will feature into a digital short, or perhaps something for the cold open, but have a look regardless:
The things you see in New York City. Melissa McCarthy riding Sean Spicer's podium through Midtown #SNL pic.twitter.com/BEorGZ15yS

— Donie O'Sullivan (@donie) May 12, 2017
Melissa McCarthy has the Sean Spicer podium on 58th Street right now #SNL pic.twitter.com/RO6GJExpkA

— Donie O'Sullivan (@donie) May 12, 2017
Not including Spicey's brief cameo in the most recent promo, the Melissa McCarthy impression has made three appearances to date, including its original incarnation, the following week's cold-open (with the motorized podium), and a recent Easter bit shot from Los Angeles. McCarthy's fifth official hosting is expected to be a doozy for Spicer, given recent headlines that saw the beleaguered Press Secretary hiding in near bushes to avoid press inquiry of James Comey's firing.
You can check out promos for this weekend's SNL below (including new ones with musical guest HAIM), and stay tuned for the full Spicey sketch this Saturday.
Subscribe to 106.3 The Buzz on
Subscribe to 106.3 The Buzz on
Subscribe to 106.3 The Buzz on
Check Out 100 TV Facts You May Not Know!

Source:
Watch Melissa McCarthy's Sean Spicer Hit the Streets in 'SNL' Filming